Archive or Backup
Assuming you have high value data, it is imperative that you know the answers to the above four questions! It absolutely true that we are holding on to all our data for much longer and with the build up of unstructured older data we are faced with the question, where  do we store this data? Sure you can send it off-site, but if you need it now, can you afford to wait? Considering storing your data on disk or tape in  a secure affordable manner that will satisfy your needs and certainly that of your customers!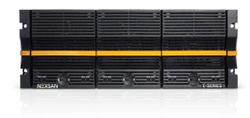 Four questions to ask every data center manager.
How do you know if all your files are in the backup or archive?
How do you know if there is a copy of all your files at your remote site?
What is the health (integrity) of your files at each site?
If they are different which one is correct?
We at EXIT 123C have a number of solutions that you should consider.
Disk & Disk with Tape Option
Guarantee Archive Data Integrity
Data can be offloaded from expensive primary storage onto a cost-effective Nexsan Assureon archive storage system without any disruption to ongoing operations.
Nexsan E Series, Beast and Nexsan Unity and optionally offload data to the Assureon
Backup to Unity, E Series or Beast or just archive to the Assureon of the Assureon attached to the Unity.
A storage gateway solution that integrates storage tiers and technologies to simplify data management and enable the lowest-cost data preservation. StrongBox can be used as file-based, network-attached storage (NAS) or for object-based storage to support massively scalable data workloads.
Typical customers range from video production organizations to the marketing and communications departments of corporations to local TV stations and major global broadcasters
Scalar libraries are the intelligent choice for archiving applications and long-term data retention. Proactive and automated monitoring and management reduces administration time and service interruptions keeping IT staff focused on key business objectives. With ease of management, industry leading performance, reliability and scalability, it's easy to see why Quantum is the market share leader in tape backup and automation.
"The world's technological per-capita capacity to store information has roughly doubled every 40 months since the 1980s, [and] as of 2012, every day 2.5 exabytes (2.5×1018) of data were created." 
Small to very large tape libraries
24 Slots to thousands utilizing LTO Tape Drives.