Unity - Unified Storage with Enterprise Sync
Unity is the first and only Hyper-Unified Storage platform.
Supporting advanced
block and file workloads

and then adds the rich capabilities such as

File Sync and Collaboration

that IT teams demand and their users require.

Adding Dropbox-like sync and share, real-time file synchronization among distributed sites, and secure archive … all fully compliant with security protocols.
Unity 2200
Entry Level

280TB Hybrid & 245TB All-Flash
Drives: 7.2K SAS, 10K SAS, SAS SSDs
2U (4U with Expansion)
GigE, 10GigE, 8/16Gb FC
Unity 6900
High End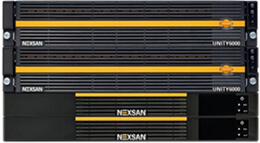 4.74PB Hybrid & 752TB All-Flash
Drives: 7.2K SAS, 10K SAS, SAS SSDs
6U (42U with Expansion)
GigE, 10GigE, 8Gb FC
Unity is the first and only hyper-unified storage with an on-premises private cloud able to satisfy IT requirements for availability and security along with end user demands for anytime, anywhere access and sharing.
Enterprise NAS - NFS, CIFS/SMB for unstructured data and files.
High Performance Block - FC, iSCSI for structured data (databases and Exchange).
FASTier - Accelerated RAM and flash caching for high performance.
Sync & Share - Dropbox-like file sharing and mobile access under IT control with enterprise-class security.
Multi-Site Sync - For improved data availability and faster large file transfer.
 Secure Archive - The most secure and cost-effective way to protect data and maintain strict industry compliance.
Groundbreaking Integration
Unity's fully integrated private cloud is intelligent, patented software that enhances our enterprise-class unified storage with Enterprise Sync & Share, Mobile Access, Multi-Site Sync, and Secure Archive in a simple to manage and cost-efficient storage system.
Unified Storage
This unified storage system support Fibre Channel and iSCSI connectivity in addition to NAS and SAN protocols with HDD and SSD support that can be tailored for the best mixed application deployment environment. For organizations facing extreme data growth or needing greater application performance, Nexsan Unity scales from 13TB up to 5PB.
Enterprise File Sync & Share
Users experience the ease of Dropbox-like sync and share and mobile access without the security vulnerabilities of keeping confidential information in a public cloud. Data is safeguarded under the control of IT with no need for VPN, managed file transfer software, or monthly costs for public cloud services.
Multi-Site Sync
Synchronize files of any size to multiple branches or remote offices using encrypted transport over standard internet connections. Local users enjoy higher availability and LAN speeds — dramatically improving productivity.
Secure Archive and Compliance
Optimize your primary storage, achieve regulatory and corporate compliance, and ensure your files are secure for a lifetime. Security features comply with corporate and governmental regulatory requirements including HIPAA, SOX and SEC-17.
Unity2200 – Entry level system - lower cost, performance, and capacity -

3U dual-controller chassis with 16 drive (3.5") front bay, 12Gbps SAS backplane

Dual E5-2609v4 CPUs and 64GB RAM / controller

CPU and memory are better than current Unity2000C

SSD for Read and Write caching in the front bay

Storage

7 or 14 3.5" NL-SAS drives in the front bay

7.2K: 2TB | 4TB | 6TB | 8TB | 10TB

8 or 16 SSDs in front bay

800GB | 1.9TB | 3.8TB | 7.6TB

Read and Write FASTier included with the drives

Available Read FASTier capacities

800GB (default)




| 1.9TB | 3.8TB

Write FASTier 400GB

Can be expanded with 

one 

3U by 16 drive JBOD (Unity2200X)

System max capacity 280TB

Storage unit called Unity2200X
Unity4400 – Mid-tier system -

2U dual-controller chassis with 24 drive (2.5") front bay, 12Gbps SAS backplane

Dual E5-2620v4 CPUs and 96GB RAM + 8GB NVDIMM / controller

Better CPUs and Memory than today's configs

Storage: Supports

3

external storage units and the

1

front bay

1 Unity Storage unit direct attached to controllers, up to 2 daisy chained expansions (chassis can be mixed), option to fill front bay with 2.5" drives

Head unit can be populated with 2.5" SSD or 10K drives

10K will come with FASTier mixed in (see US224 for configuration options)

Drive Options:

7.2K: 2TB | 4TB | 6TB | 8TB | 10TB

SSD: 800GB | 1.9TB | 3.8TB | 7.6TB

10K: 900GB | 1.2TB | 1.8TB

Available FASTier capacities

800GB (default) | 1.9TB | 3.8TB

System max 7.2K capacity 1.7PB

System max SSD capacity 737TB

Storage Chassis

US316

US424

US460

US224 (SSD or 10K)

Front Bay (SSD or 10K)
Unity6900 – High-End system filling large capacity needs -

2U dual-controller chassis with 24 drive (2.5") front bay, 12Gbps SAS backplane

Dual E5-2640v4 CPUs and 192GB RAM + 16GB NVDIMM / controller

Best CPUs and most memory put in Unity configuration

FASTier in the head unit

Storage: 

8

external storage units and the

1

front bay

2 storage units direct attached to controllers, up to 3 daisy chained expansions per head unit (chassis can be mixed), option to fill front bay with 2.5" drives

Head unit can be populated with 2.5" SSD or 10K drives

10K will come with FASTier mixed in (see US224 for configuration options)

Drive Options:

7.2K: 2TB | 4TB | 6TB | 8TB | 10TB

SSD: 800GB | 1.9TB | 3.8TB | 7.6TB

10K: 900GB | 1.2TB | 1.8TB

Available FASTier capacities

800GB (default) | 1.9TB | 3.8TB

System max HDD capacity 4.6PB

System max SSD capacity 1.6PB

Storage Chassis

US316

US424

US460

US224 (SSD or 10K)

Front Bay Storage (SSD or 10K)